Hey everyone. How's your 2020 going?
Kidding aside, it's been a struggle for sure. Between the pandemic, the natural disasters, and the state of affairs, it's been a difficult year. To speak only for myself, one of the few notable great things that's come out of the year has been the pinball streaming community on Twitch. Being able to play some games, chat with friends old and new (with some across great distances!), and just forget about all of the things that are outside the door for a few minutes has really been a blessing and a salve the past few months. It's difficult to explain but there's something truly magical in the silly, stupid time we spend broadcasting on twitch with the people kind enough to share their time with us. So – thanks for that.
We're on our 3rd month of being a Twitch Affiliate (tens and tens of dollars), and likewise our 3rd month of funneling that money to a charity of choice. This month we've chosen the American Foundation for Suicide Prevention. For a few months I've mentioned on stream that the charity structure was set up for us not to take your money, just for us to donate based on the streams and subscribers.
This month we're asking you to contribute to the AFSP along side us. Click here to view our fundraising campaign.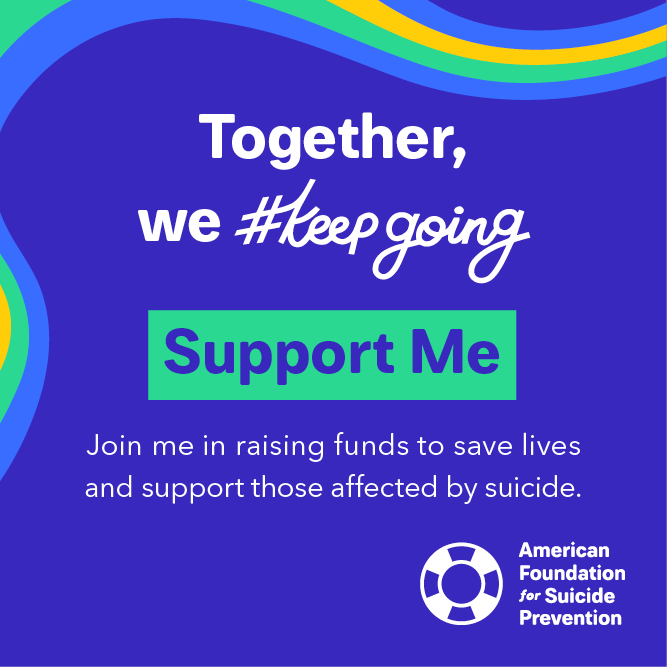 Our friends Joe and Barrett had an idea to do a stream for AFSP a few months back, and now we're less than a week out from actually doing it on Saturday, Sept 26th. It's going to be a great day of pinball and games, but more than that, I really hope you'll join us in supporting the work that the AFSP is doing.
Mental health is likely more important these days than any other time I can remember in my lifetime – there's a lot of reasons today to feel isolated, depressed, and warn down. It's important to continue to build and enhance connections and relationships in a time where it's exceedingly difficult to make human connections. It's important to share the things you enjoy with other people and be a part of community. The AFSP focuses on scientific research, awareness, and support for those who have attempted suicide and those left behind – critical services in a time where they're needed more than ever.
We've created and met a bunch of silly incentives to benefit the AFSP so far, and have more to go. If you're a fan of our brand of oddness or not, I hope that you'll consider donating some money to the AFSP this month – through our campaign or independent of it. We've set up the campaign at Tiltify so your donation goes directly to the AFSP, and not any of us. Please help if you can.
Thank you for your consideration and support. It means a lot. We'll see you on Saturday at 1 Eastern to get started!
-Derek