Thoughts on a year
I can't stress enough – this whole past year has not been one of planning, premeditation, well-considered ideas... any of that. A lot of reaction, "hey-what-if", and just doing what felt right at the time.
No one wanted to be home the whole year. No one was wishing for an extended separation from families. No one expected their entire social structure, plans, activites, etc to just disappear. They just did. And so we react, we adapt, we do what we do.
"Hey, I'm thinking of trying to stream pinball tonight. Want to play or nah?"
I'm not sure that's the exact quote, but that's about how we decided in the spring of 2020 to try putting live pinball on the internet. It wasn't an unknown – plenty of folks had been doing it before. But it wasn't a planned thing for us. No one would start a streaming channel named "MutterFudder" if you thought this was going anywhere. No one would use our janky at first tech setup. No one would watch this... right?
But here we are a year later. We've been fortunate to be doing this in a year where there wasn't a lot else to do. We've become better pinball players? Probably. We raised a few bucks for a few great charities along the way. But most importantly, we've been able to share time with a whole bunch of great people and make a lot of incredible new friends we'd have never met if not for all of this.
I feel like I'm trying to put a silver lining on the mushroom cloud that has been the last year and change, but I'm really grateful for the things we've done on Twitch in a year. Of getting new friends. Of doing stupid things. Of raising money for charity. We're going to try our best to celebrate all of that this month.
Great, so what are you doing that's so special, then?
In short, and then detail below:
- We're going to stream a bit more than normal, and a bit outside our normal.
- We're going to hopefully have some friends join us on some streams.
- Any and all proceeds will be going to a charity for the entire month - Twitch and otherwise.
So first off: If you're not following on Twitch, start there. And use that little bell – we'll be doing some stuff outside our normal Tuesday and Friday stuff throughout the month. Some of it will be pinball, some of it won't. No worries if you don't want to stick around for everything :)
Second: We're hoping to do some collaborative stuff with some of the aforementioned friends we met this year. Again – what will it be? Dunno yet. But we want to celebrate some of the people we've had the privledge of meeting through this thing we do!
Third: We're going to donate all the proceeds to charity. This month any Twitch money raised in June will be donated at the end of the month to the Pancreatic Cancer Action Network, an organization dedicated to research and support of this disease. This means any subs, bits, ad revenue, whatever we get will go on there, as well as any merch sales or direct donations to the campaign.
How can you contribute?
By watching Twitch! Ad and viewer money will get donated automatically. Thank you for helping us support this worthy cause. If you'd like to donate directly, we'll have a campaign link available in the channel shortly.
You don't have merch – what "merch sales"?
Sigh... we'd hoped to get this lined up before the first June stream, but delays... etc, etc. We'll have a t-shirt. We're waiting for proofs to show up before I give anyone a link to them. I want to make sure they look and print well because I'd be disappointed if the shirts were crap and someone bought them. They'll look like this: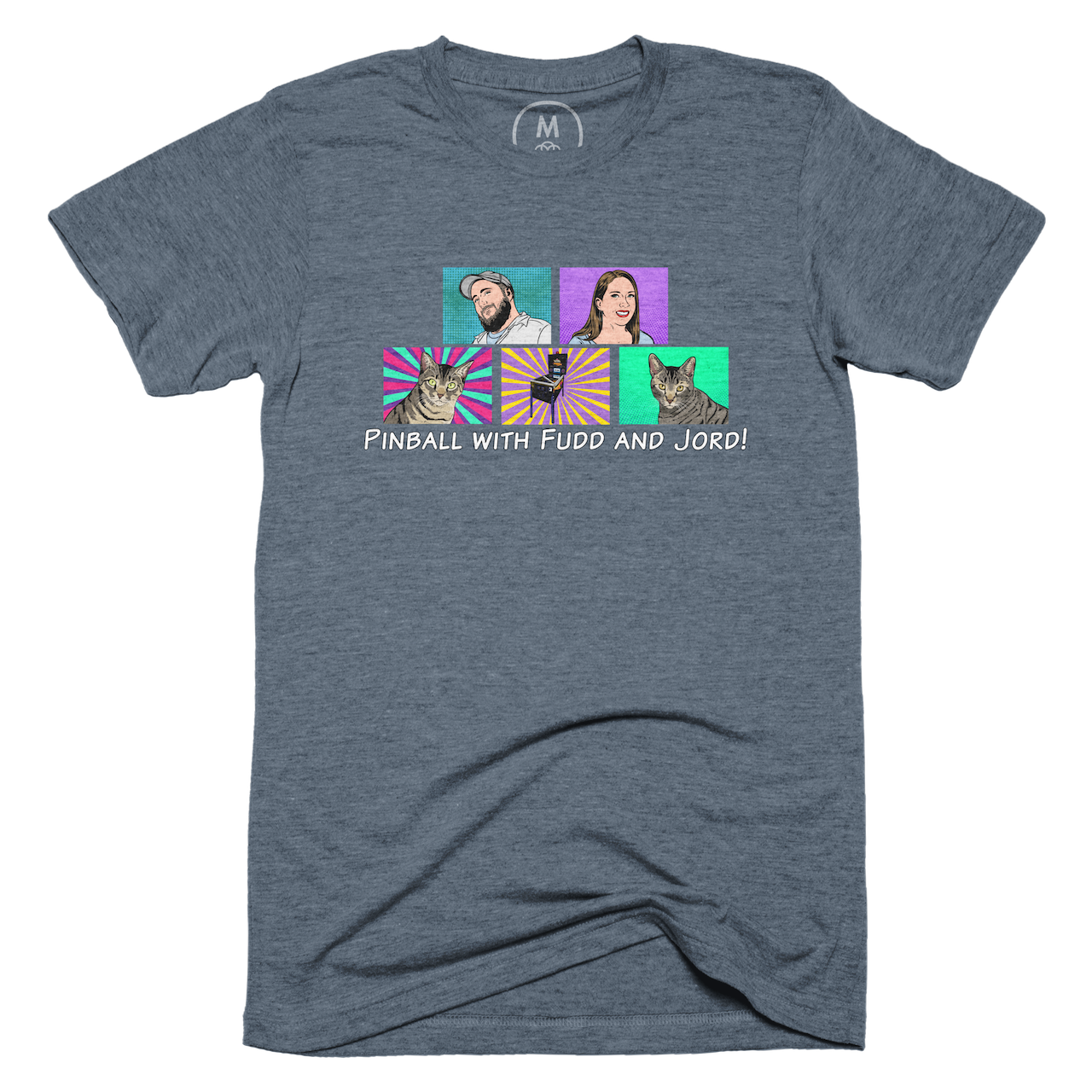 Shirts will be available in a few different colors and styles, and all profits ($5 per item) of shirts sold in June will go to PanCan.org as well. More info when I validate the proofs, but I have high hopes – I've bought a ton of shirts from this vendor and I'm excited to make these shirts.
We'll also have other surprises throughout the month – keep your eyes peeled for more info.
Thank you
If you've made it this far – thank you. This has been a crazy year and I wonder what it wouldv'e been like had we not had this outlet to share with you. Thanks for showing up, chatting, and laughing along with us. Let's see where the next 12 months takes us.
With flarp and admiration,
Derek, Jord, Vena and Cyrus
June 1, 2021